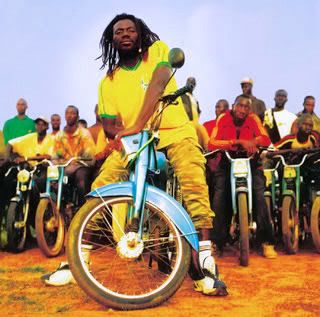 My spring break was radical.
My friend, Anetxus, and I loaded up her car with our surfboards and camping gear and drove from Donostia, Euskal Herria to Ericeira, Portugal. We left with our hearts set on escaping the torrential Basque rains and scoring some good waves. The drive was long and beautiful. We saw the steep, green, Basque mountains give way to the vast Spanish Meseta and then the rolling Portuguese mountains, topped with windmills, fall into the Atlantic sea.
We entertained ourselves was by sharing music. One of the CDs that I liked most was l'Africain by Tiken Jah Fakoly, a reggae maestro from the Ivory Coast. He bumps his roots reggae in French, English, and some different African languages. Social and political commentary are central themes in his music. He was even banned from Senegal after talking shit about the president.
The dude rocks and we jammed out to him for hours. The surf in Portugal was out of control! The camping was great, we skated a bunch, drank about 8,000 Super Bocks, and ate way too much bread and nuts. All in all, it was a radical trip!
And for the record, I got nothing against Sting...I actually like his stuff...but I think that Tilken's jam is much funkier.
04- Africain à Paris.mp3
Download Here!